Z Non Security¶
Non-security related content here!
Parenting¶
Neuroscience for Parenting¶
Oxytocin - Love hormone responsible of reorganizing neurons while parenting

Also responsible of Us vs Them behavior
In-group and out-group dynamics
Feeling part of a group (protect a group)
The Reptilian Brain¶
Survival of individual
When active: People act in treat stress mode
Active when there is danger / perceived danger
Responsible of dealing with life threatening situations
Works closely with limbic amygdala
Three ways of responding to a threat:

Flee

Lead to love, movement and change

Fight

Lead to challenges and winning

Freeze

Lead to sharing and caring

Standby - Active even where there is no active danger

Lead to contemplation and thinking

Reptilian Brain also gets activated when life is not in danger

Stress - Defense mechanism to a persevered danger
When feeling stresses

Flee -> Anxiety
Fight -> Aggressively
Freeze -> Helplessness

Reptilian Baby

During first 3 months, 90% of neural connections are disappeared based on surrounding
For a newborns slightest discomfort will trigger Reptilian Brain (life threatening)
For a baby cry is the only action but could be due to, Flee, Fight or Freeze:
Before 2-years, given them what they want
Prefrontal brain is responsible of Handling emotional pain

17 years + development to avoid humiliation
24 years + to fully develop

To handle stress of children - Show that you are on their side

Flee

Movement and avoid confrontation

Solution: Give options
Solution: Humor

Fight

Overpowering and winning

Solution: Share outrage
Solution: If kid is upset due to something you did, acknowledge feeling

"I understand you are angry right now"
"You have right to be upset"

Freeze

Looking for protection (ex: tears / not-doing-anything)

Solution: Offer support
Solution: Be there

Common Solution: Offer a hug (tell if they want a hug they can have it later)

Releases oxytocin. Bonding hormone.
Fight stress is defensive aggression, which happens when Reptilian Brain is active.

Movement

Main purpose of brain is to facilitate movement
50% of neurons are from Cerebellum is responsible of coordination of movement
This is the part of brain mostly grown at first 3 months of a newborns
Hence, movement is key to development of a child
Climbing, balancing, obstacle avoidance increase the brain growth (any activity that require constant attention on what uld happen next)

Food

Sense of hunger is gen by hypothalamus
Brain is 73% water
60% of remaining 28% is fat
Highest quality fat is: Omega 3, can be found in:

fatty fish (salmon, sadin)
Nuts
Milk and eggs (natural ones)

Sleep

Own bed rule
Co-sleeping is important
Paleolimbic Brain¶
Survival of group
When active: People act in very territorial way

Tries to impress and intimidate

Unconscious scripts inherited from education which regulates life
Responsible of:

Self-confidence

Too-much: Dominance - Think of himself as superior to others
Too-less: Submissiveness - Causes melancholic depression

Trust

Too-much: Axiality - Results in gullibility
Too-less: Marginality

limbic amygdala is responsible of parental instincts and territorial power games related to protecting kids

Ex: Fight with much larger predators when offspring is in danger

When someone is in this mode, better to let him calm down. No point of talking.
Paleolimbic Toddler

Paleolimbic brain activated at 2 / 2.5 + years
(Start playing together as a group)
Power-struggle and test others to see how long they can go

Don't start explaining things
No hugs / No nice guy
Show you are in charge at these situations
Let your kid win time to time, but with non-important things
Let kid learn consequences of their actions
Discipline the child and let them know they cannot do whatever they want
However, too much discipline is wrong and will become submissive
Don't threaten with a punishment and then not do it (don't reward for not complying)
Once 4 years + - make sure rules of the house is clearly defined (however, they will still test the limits)
Fluctuations of self-confidence stops only after 12 + years

Bullying

Is a dominant Paleolimbic behavior
Do role playing and teach child how to say "No no no" in bullying situations
Get bully to become a friend
Neolimbic Brain¶
Home to deepest motivations and raw emotions
Where memory resides
Identify situation and come-up with procedures to handle it
Highly efficient and free-up minimum required attention span to carry out a task. Hence, free-up mind to do multiple things at the same time (Drive and talk).
3 layers of motivation

Intrinsic motivations

After 3 months will remain same throughout life
Could lead to 8 different personality types
Motivates you regardless of whether you like what you do

Extrinsic Motivations

Not fixed
Likes and dislikes
Blueprint of cultural influences (socially expectable)
Motivates you only if you like what you do (won't last forever)

Example: Motivation from a raise last 3 - 6 months

Obsessions

Passion that has gone over its tipping point
When obsessed we are not just free (never satisfied of what you do towards the subject of the obsession)

Expectations

The Pygmalion Effect - How we think about others will influence how they perform

Give list of high potential students (chosen just randomly) to a lecturer and measure success of students.

The Gollem Effect - Negative expectations lead to negative outcomes
Even when we try to hide our inner expectations, kids will pick those up from other signs
Expecting too much -> lead to raising insecure adults (with attachment issues)

Kids will feel that: if kids do not perform as expected, they do not deserve our love

No expectations -> lead to brats who do not know how to stand up for themselves
Focus on efforts not results
Actions

Discuss with your kids
Setup rules together
Challenge them

Look at the kids with love, compassion and pride. Look at their potential
You way of looking at them shapes who they will become

Punishments and reward

Never make a threat you will not act upon. This will damage your authority.
Types of punishments

Removing a toy
Timeout
Being grounded

Rules

Consequences have to be clear and accepted/agreed

If X happens what should be the consequences? Let them decide.

Transgressions should always have consequences
No drama

Explain what is the problem of doing X (Ex: wall paintings / fighting while driving)
Ask from kid why he is doing X
Give alternatives
Talk in isolation (individually)

Parenting Styles

Learned helplessness - By trying to make things easier in short term, we make things harder in long term
We should help but not right away. Let them try, get frustrated.
When child come to you, offer help. Next time, child will be able to solve the problem on their own.
The Attachment Theory

Kids require: Safety and Exploration
Securely Attached

Parents that are attuned to their desires.
Kids will fel secure when parents are around.

Avoidantly Attached

Parents emotionally withdrawn. Child will learn to independently grow.
Independent and mature. Fail to develop relationships with others. Not social.

Ambivalent/disorganized attached

Parents are inconsistent
Kids are confused. Grow to be more fearful.

Let kid explore. When a paint point arrives share a story where you also had a similar pain. Tell them it's normal to feel that way and it's part of the life. Tell them that you are there if they need you to.

Personality

Factors of Reptilian Brain, experiences during newborn period affect personality.
Forcing kids to become what we want to become if counterproductive.
Let children experience the life. Let them learn what they like. Fulfillment, Joy and Happiness is ultimate goal.
Don't always reward or cheer too much. Doing so, yo might turn intrinsic motivation into extrinsic.

Mindsets

Fixed mindset - Focused on the result.

Good grades is the focus.
You avoid taking risks due to this focus.

Growth mindset - Focused on the process

Putting effort in there and experimenting.
Enjoying the process (journey) and taking a challenge.
Less stress. Doesn't affect relationship.

Complements

Complements reenforce identity
Praise the effort (not the end result)

Don't say: You are the best / That's beautiful / You are smart
Say: You worked hard / You applied yourself / You like to learn new things don't you?

Don't overdo it.

Brain get used to Dopamine rush
Will need stronger incentives
Kid will like the praising more than the activity itself

Do not ridicule or joke about a child. Prefrontal brain is not grown to handle this.
Prefrontal Brain¶
Make humans unique: No other living creature has this structure the way we have it
Using Reptilian and Paleolimbic brain -> No connection with local thinking ability
Creating invocative solutions to the problem at hand
Adaptation / Creativity
Should be the one dealing with new and complex situations

Not always the case. Limbic brain might be used in a situations where Prefrontal should be used. Example:

Harry potter book was turned down by several publishers
Idea of a personal computer

Leads to resistance to change.

Use all our knowledge and creativity to see a possible future and then say "yes" or "no".

Might not be right decision

Home to:

creativity
intuition
spirituality
adaptability

WHen in use: we feel calmness and in full control.
Remaining calm:

Fast forward 10 years and think about it.
Look at the situation and imagine how it could be worst. Will enable Prefrontal and disable amygdala.

Learning

Force kids to make mistakes. And let them learn from mistakes.
Act of retrieving knowledge:

The more knowledge is retrieved, stronger the pathway in brain becomes
Let the kid do assignment on their own
Revisit with him later
Have them fail in the safe-environment and repeat until it's right.

Sleep improves memory by at least 15%

Adolescence

90% of full size by age of 6
From age 12, go through re-wiring

Adolescence is the adaptive period
You should be there to support child's emotional needs (not the other way around)
Be the safe-haven

Age 24+ to fully mature brain
In human nature to product a creature optimally primed to leave a safe home and move into unfamiliar territory

Overcome fear of leaving safe world and take risks (and new allies)

Dopamine helps fast learning, takin risks
Oxytocin bounding hormone

Creates feeling of us vs them.
Creates hostility between you and teenager

In combination, creates a person:

Very active socially and sharing new stuff with them
Sensitive to peer pressure

Teenagers weight reward and risk differently. Dopamine make reward look better.
Look at the attitude that drives the actions (not the results).

Experimenting is not wrong.

Actions

Need framework and rules but flexible and evolving
They will need independence to answer social needs

If not give, Poleolimbic brain create a territorial battle

Stay connected
Put down rules (negotiate rules). You are not the enemy.

Get their point of view and adjust the rules as required.
Write consequences clearly.

Sleep is important. Create rules around that.
Language center mature at 13 years. After that we cannot pickup anything as a 2nd nature.

Screentime

Limit to less than 1-2 hours per day
Less than 3 years non at all
Due to:

Gray matter atrophy
Loss of white matter integrity
Reduced cortical thickness
Impaired cognitive function

Dopamine instant gratification

A rush with each game win, or video you watch
Kids never get this type of dopamine rush in non-screen environment
Therefore everything else becomes dull, and make you unable to focus

Humans are social animal by nature. Screen reduce social skills.
Sleep deprivation. Blue light LED, which disrupt melatonin.
Keep it controlled from the start.

Grit

Delayed gratifications (instant gratification was our nature because everyday could be the last)
Growth mindset
Be demanding.But not too much, which could lead to Learned helplessness.
Be Demanding yet Supportive.
Our brain evolved for

instant gratification
energy efficiency

Try Harder. Put them in control. It's in your hand. Perception of Control.
Common¶
Submissiveness, Introversion and Shyness

Submissiveness

About obedience
Part of Paleolimbic Brain
Should be avoided
Talk: Is your kid bullied kicked upon

Introversion

Character traits
People who are introverted tend to be inward turning, or focused more on internal thoughts, feelings and moods rather than seeking out external stimulation.
Part of Neolimbic Brain
Talk: Is your kid like to be alone (introverted)

Shyness

About social fear
Part of Reptilian Brain (freeze)
Talk: Is your kid scared of others who he doesn't know

Invite same age kids to home (one at a time)
Introduce the kid to other one
Ask other kid some questions and then involve your kid on answers

Help delaying gratification

When you promise something do it
When they want something make them earn it

Action means reaction
There are consequences to actions

Birth Order

First Child - Parents have strong urge to do everything perfectly. More attention given by parents.

Reliable
Conscientious
Structured Cautious
Controlling
Achievers
Competitive mindset

Second Child - Parents are bit relaxed. Have sense of having control. If different gender than the first, second child may have first child characteristics.

People pleaser
Somewhat rebellious
Thrive on friendship
Large social circle
Peacemakers

Last Child - Grab whole family attention. Hence 2nd child is left out.

Fun loving
Uncomplicated
Manipulative
Outgoing
Attention seeker
Self centered

Only child becomes extreme First Child. And also, mature to his age, perfectionists, conscientious, diligent, leaders.

Main pillars for healthy brain
Three golden rules

Setup a framework (set of rules)
Let them experiment without too much adult interventions
Avoid public humiliations

You are on their side. Take away the perceived danger.
Communication on the level of emotions. Offer guidance.
Family Meetings¶
https://centerforparentingeducation.org/library-of-articles/healthy-communication/holding-family-meetings/
plan weekly schedules/calendars so everyone knows what each person will need to do and what commitments have been made.
share information that will effect family members.
have fun together.
make family decisions about vacations, recreation or other activities.
It is truly an opportunity for your children to feel SEEN, HEARD, and UNDERSTOOD by you (since everyone is equal)
Introducing Family Meetings to Children

take time to introduce the concept to your children before you dive in

you've recently learned how weekly meetings can benefit families by helping them communicate and solve problems together as a team
Because family meetings work toward building consensus, everyone has a voice and a role in solving problems.
Meeting time is also an opportunity to have fun, plan trips, organize family outings and service projects, and appreciate each other

specific problem

Decide who is involved.
Each person states his perspective and viewpoint about the problem.
Ask each person for suggestions
Write down the suggestions.
Develop a plan of action.
At the end of the session, set a time for a follow up meeting to evaluate
Have a follow up meeting.

make sure:

Value everyone's input.
Treat all members as equals.
Avoid letting one person dominates.
Keep the family meeting short (no longer than 15 minutes).
Using "I" Statements (over "You" statement)

"I would like" (tell what you want to happen instead)

to make it interesting

include refreshments.
include an opening activity that highlights positive family events or achievements or affirms individual family members.

Example – best thing I did today, trait I like about myself, (or about someone else in family)

set an agenda so that everyone knows what will be discussed.
establish ground rules, such as:

no interruptions
no put downs
everyone is listened to
respect each other's opinions
everyone has a chance to contribute

Sharing leadership
Being flexible
Keeping Minutes

Family Meeting Agenda

Open Meeting - with a poem, prayer, song, candle-lighting, etc.
Appreciations - each family member to appreciate, say "thanks," compliment, or acknowledge other members on positive things they noticed this week
Discovery Time - learning together as a family
Week in Review

What worked well in our family this week?
What went wrong in our family this week?
What will we work on this coming week?

Problem-Solving

resolving problems or issues that individual family members have placed on the agenda
try to solve only one problem a week

Weekly Planning

Trips, concerts, sports events
chores

Fun Activity - playing a game, watching a movie, or making pizza together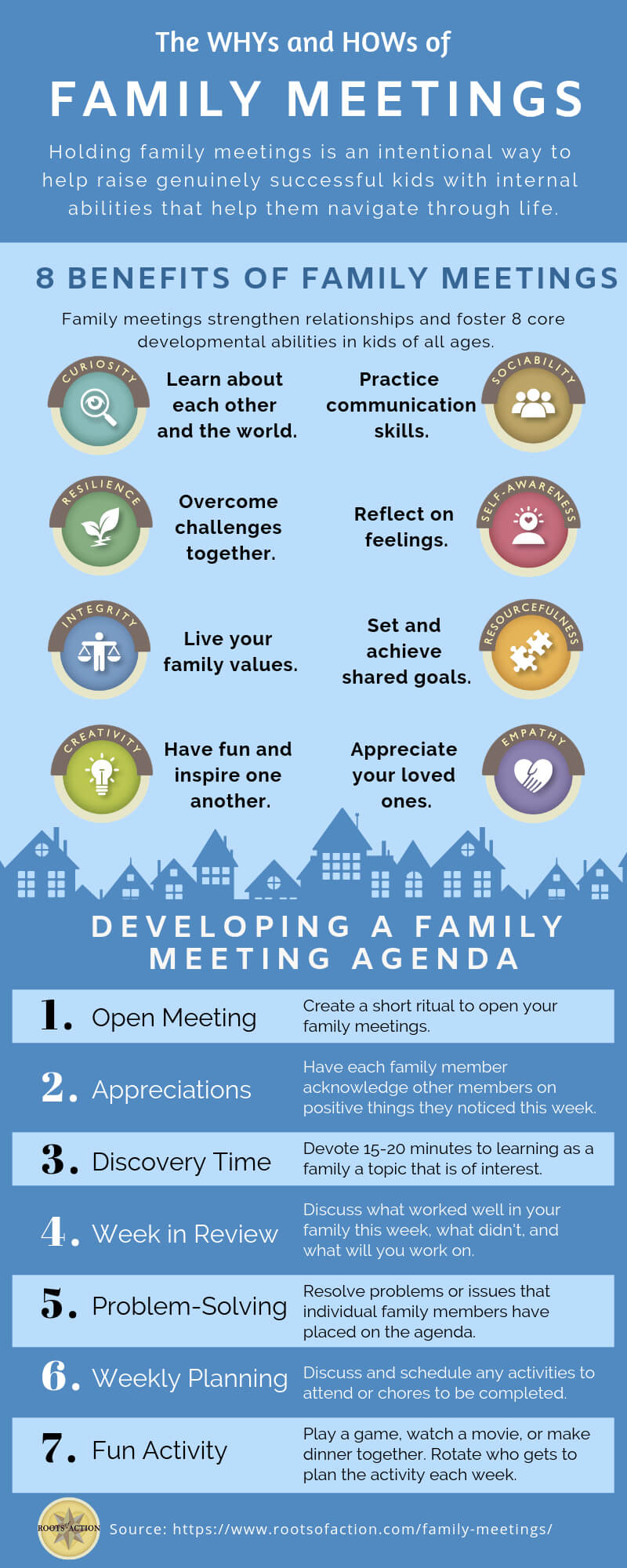 Power Struggle¶
Misbehave to:

Belong
Feel loved
feel powerful
Feel valuable
Feel like they have a place
Experiment and explore

Adlerian Psychology
Misbehaving = Discouraged (from getting one of these needs met).
Identify child's mistaken goals and provide a better way of getting to those.
Mistaken Goals

Attention

Feel special and feel loved by keeping parent busy
Parent Feel: Irritated, annoyed, frustrated, distracted, manipulated

Power

Parent Feel: Provoked, anger, challenged

Revenge

I feel hurt, hence I'm going to make you hurt
Parent Feel: Hurt, mad, want to get even

Avoidance

Parent Feel: Feel sorry for child, despair, helpless coaxes or shows pity
Side Stepping the Power Struggle

Joy of Opposing when Power Struggle with someone
Drop parent's end of tug of war by stopping talking

Without disrespecting or doing something mean.

Preventing Joy of Opposing

Do not escalate your emotional response. (Example: Loud "no"s with each attempt)
Respond like a broken record (repetition)
To play in garden, you are going to learn not to do X. And drop child in a different place, until child stop doing X
Repetition and Redirection. Cannot learn when in a power struggle - in stress (reptilian brain). Repetition help keeping prefrontal brain active and learn.

Kind and Firm

Find middle ground between kindness and firmness
Better to be more firm than kind
Given-in from time to time, but don't let them completely win power struggle.
Dance of Corporation

How to Get Out of A Power Struggle

Use loving guidance

Words fuel power struggle. Use less words (no is better).
Approach calmly. Use eye contact / non-verbal signals to give the message.

Find useful ways for the child to feel valuable and powerful

Example: Give his own drawer in kitchen for his stuff

Teach them to say "no" respectfully

If saying "no" was not an option, kids will find alternatives like arguing

Offer choices

Choices should be aged appropriately to let the kid feel empowered

Concrete choices
"Do you want to wear the red pants or the blue pants?"

Choices with incentives
"Do you want to go to bed now and I'll read you 3 stories or go to bed in 5 minutes and I'll read you one story?"

Playful choices
"Do you want to walk to bed or run to bed?"

Immediate choices
"Do you want to go to bed now or now?"

Choices with consequences
"You may play with the truck on the floor or choose a soft toy to play with on the table. If you run the truck on the table again, I will take the truck away."

Do the unexpected

Do something unexpected / fun to break the attention to power struggle
Then get back to the original task. Don't let the kids get away
Example: Dance before bed (when power struggling about bed time)

Win/Win negotiate

Flexible
Usable with a child who does what he say he will
Negotiate what happens if task is not done

If child is not accountable with the negotiation, don't use this technique

"I see that's a win for you and I want you to win. But I want to win too......"

Let go of your position
Use a signal

Let child make a signal (word of a sign) to start a task
Example: "Broccoli" is the sign to "stop fighting"

Preventing Power Struggles

Talk Less (use actions)
Use One Word (in sing sung voice)
Be firm and kind - and follow through

Do what you say. Show that you mean the consequences.

Say no in a friendly way

That's not an option
I am unwilling...
Say it in a funny way, i.e. "Never in a million trillion years!"
Sing, no, no, no!
That's not appropriate.
I am not ready for you to do that yet. (Great for teens)
For a younger child, use distraction
Ask, "What do you think you would need to do before I would be willing to say yes to that?"
Ask, "What do you think? Is this a good choice for you?" (If you choose this, make sure you are willing to abide by her answer)
For a youngster that has something you don't want him to have say, "That's not a toy."
Ask, "What are your other options?"
No, but I would be willing to...
I appreciate your asking, however...
Walls are not for coloring. Here is a piece of paper.
Tell them what to do instead i.e., "Water needs to stay in the tub."
This is not negotiable

Let them have the last word

Don't give in (and show that if forced enough you are ready to do something)
Be patience and just wait until kid give up

Catch them doing well and acknowledge them

Little reward (ex: join and play with them) when doing well

Let them know how valuable they are to you
Make it fun
Seek first to understand
Don't major in the minors

Pick on the battles you can win
If most things are flexible, kids tend to be more likely to comply with your major requests

Use GEMS (Genuine Encounter Moments)

See world through the child's eyes and be with him
Take 3 minutes to 30 seconds to handle a GEM
Let them feel: "What is important to me, is important to my parent"
Cannot handle all GEMS. Hence, depending on importance of your work handle some.
Options:

Do a GEM
Set temporary limit: It's OK to tell him to give 10 minutes. But make sure you'll be there by 10 minutes (Trust).
Redirect the attention.